ENGINEERING DIVISION
Our Engineering Division is headed by Scott A. Lee, P.E.
Scott welcomes the opportunity to serve all your civil engineering needs. Put his knowledge, experience, and expertise to work for you! Call Scott today at 307-347-8329.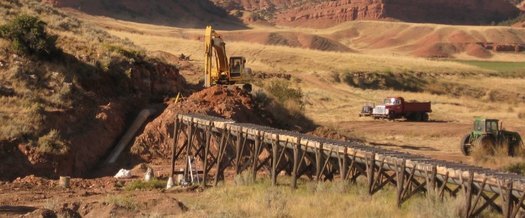 Education
Bachelor of Science in Civil Engineering, California State University, Sacramento
Certifications
Professional Engineer, Wyoming (PE 15878)
Professional Engineer, California (C 66936)
Representative Engineering Projects (Statewide)
Brush Creek Ranch Reservoir Enlargement – Saratoga, WY: Planning, design, permitting, and development of construction plans and specifications to enlarge and improve an existing fishing reservoir from 2 acres and 16 acre-feet of storage to approximately 15 acres and 145 acre-feet of storage through excavation and earthen dam construction and fish habitat enhancements.
Sunlight Ranch Twin Creek Water Distribution System – Parkman, WY: Planning, analysis, design, development of construction plans and specifications, and construction support and staking for a new potable water distribution system for a ranch operation.  The entire Madison wells-sourced system supplies 5 residences and numerous hydrants, stock tanks, and barns through 1-inch and 2-inch service connections.
Irrigation Alternatives Analysis – Lovell, WY: Develop viable alternatives and associated costs to irrigate nearly 350 acres along the Bighorn River via pump stations and pipelines.  Both electric and diesel pump systems were investigated.  The recommended alternative was a system consisting of one main electric pump (125 HP) to convey a maximum flow of 4500 GPM at a TDH of nearly 80 feet through 4600 feet of 21-inch pipe.
Sunlight Ranch Twin Creek Underdrain – Parkman, WY: Planning, design, development of construction plans and specifications, and construction support and staking for an 11-foot deep, 12" underdrain system to eliminate basement flooding at a residence.
Lowe Cattle Company Irrigation Check Structure – La Grange, WY: Planning, analysis, design, development of construction plans and specifications, and development of construction cost estimate for new reinforced concrete irrigation check structure with 18-inch canal gate / turnout.
Owl Creek Irrigation Improvements – Thermopolis, WY: Produce conceptual designs and develop preliminary cost estimates for irrigation improvements at three key locations within extensive flood irrigation systems that experienced significant damage from flooding and erosion.  Improvements involved 1) reconstruction of a stream bank combined with construction of a rock revetment to prevent further stream bank erosion and associated encroachment on an existing irrigation ditch, 2) construction of an earthen berm with rock revetment and head gate structure to reestablish ditch diversions function, and 3) mitigation of a 15-foot deep down-cut and large washout on an irrigation ditch, and installation of new irrigation structures, culverts, and delivery ditches.
French Creek Meanders – Riverside, WY: Develop project alternatives and perform preliminary design for an off-channel fish nursery including a fish-friendly rock weir diversion structure; engineered, natural-appearing meandering channels; and several proposed habitat ponds.
.
Engineering Services
Irrigation System Planning, Analysis, and Design/Rehabilitation
Dam/Reservoir Design
Highway/Roadway Design
Hydrologic/Hydraulic Analysis and Modeling
Drainage Design
Culvert Rehabilitation
Fish Passage
Intersection Design
Roundabout Design
Cost Estimating
Permitting (Federal, State and Local)
Technical Studies and Reports
Construction specifications
Contract advertisement, bidding, and award
Construction management and oversight
All projects are considered. Scott works with the client to identify the project parameters and the scope of work; and to establish a realistic completion schedule for each project phase. WWRCI can provide an estimate of cost, when practical. All Federal, State, County and local laws and regulations are strictly followed. WWRCI recognizes the sensitive nature of the clients' information and projects.
Feel welcome to call Scott or Todd with your needs, at 307-347-8329; or through our Contact Us page. We strive to handle each request with the timeliness and attention each client deserves.