Our Land Survey Division is headed by Fritz D. Nelson, L.S.
Put his expertise and experience to work for you! Fritz welcomes the opportunity to apply Wyoming Water Rights Consulting, Inc.'s combined resources to serve your land surveying needs.
Call Fritz today at 307-347-8329.

Education
A.S., Civil Engineering Technology, Penn Tech College

Registrations
Professional Land Surveyor, Wyoming LS 15031
Professional Land Surveyor, Pennsylvania SV 075323

Professional Affiliations
Professional Land Surveyors of Wyoming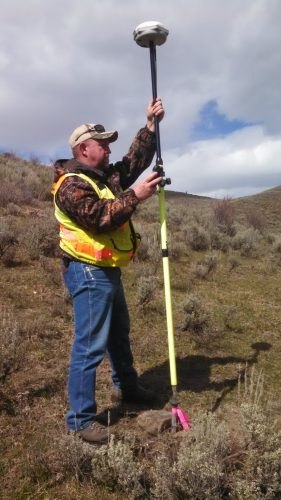 Representative Survey Projects
Topographic survey for Love #1 Reservoir Rehabilitation Project, Sheridan County, Wyoming.
Topographic survey for Whitaker Reservoir Rehabilitation Project, Laramie County, Wyoming.
Control and topographic survey for Spring Creek Dam & Reservoir project, Laramie County, Wyoming.
Record of survey for land development on Coal Draw near Kirby, Wyoming.
Dead Horse Subdivision near Ten Sleep, Wyoming.
PLSS tract surveys and water rights, LU Ranch, and Hampton Sheep Ranch, Bighorn Basin, Wyoming.
Oil & gas well layout and construction staking. Bradford, Pennsylvania.
AT&T fiber optic trunk line design and layout. Central Florida.
Army Corps of Engineers beach restoration. Central Florida.
FAA airport improvement projects. Statewide Florida.
Project Manager of Survey for I-4 widening south of Deland, Florida.
Diamond mine cadastral surveying. Central Venezuela.
Land Surveying Services
Boundary Surveys
Water Rights Surveys
ALTA/ACSM Land Title Surveys
Topographic Surveys
Property Divisions
FEMA Elevation Certificates
Basic Project Control, Horizontal and Vertical
Oil and Gas Well Locations
Mortgage Surveys
Construction Surveys and Layout
Subdivision Layout and Platting
Route Surveys
Rights of Way and Easements
Legal Descriptions
As-Built Surveys
Expert Witness and Testimony
Control Surveys and Networks
Accident Scene Surveys

WWRCI uses drone technology to better serve our clients.
UAV (Unmanned Aerial Vehicle / Drone) 2D & 3D Mapping Services
Farm and ranch mapping (e.g. fencelines, irrigated lands, roadways, etc.)
Pre-engineering topographical mapping
Post construction as-built mapping
Pipeline and Right-of-Way mapping
Stock pile / mining volumetric calculations
Call for additional services and be sure to check out our What's New page.
Each prospective land survey project is handled on a case-by-case basis and cost estimates are provided, when practical. Federal, State, County and local laws and regulations are strictly followed. Confidentiality is a must. No aspect of any project is shared with third parties unless authorized by the client or where governed by applicable statutes.
Give Fritz or Todd a call at (307) 347-8329 or through our Contact Us page to discuss your needs. We recognize the importance of providing quality service in a timely manner. Fritz will be on site when you need him.
A brief history of the Public Land Survey System can be found here and is recommended reading for anyone interested in land surveying.
Mapping and CAD Services
Drafting and GIS services
Reproduction and Plotting oversized sheets
Cartographic mapping
Topographic mapping
Seamless Topographic Quad Maps
Aerial Photographic Maps