Our Land Survey Division is headed by Fritz D. Nelson, L.S.
Put his expertise and experience to work for you! Fritz welcomes the opportunity to apply Wyoming Water Rights Consulting, Inc.'s combined resources to serve your land surveying needs.
Call Fritz today at 307-347-8329.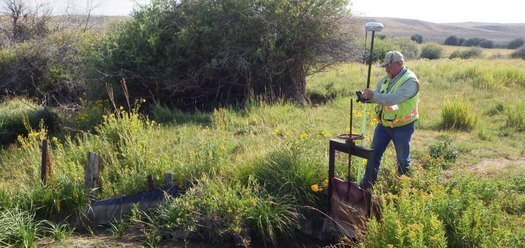 Education
A.S., Civil Engineering Technology, Penn Tech College

Registrations
Professional Land Surveyor, Wyoming LS 15031
Professional Land Surveyor, Pennsylvania SV 075323

Professional Affiliations
Professional Land Surveyors of Wyoming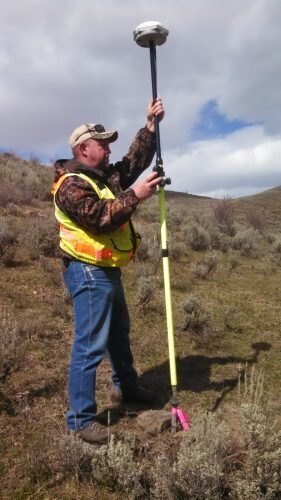 REPRESENTATIVE LAND SURVEY PROJECTS (STATEWIDE) 
Ranch Boundary Retracement, Cottonwood Creek, Wyoming.  Boundary research, retracement and monumentation for nearly 1000-acre property to re-establish PLSS monumentation and property boundary for fencing and management objectives.
Brush Creek Ranch Fishing Lake Reservoir, Saratoga Wyoming.  Cadastral, topographic, water rights, and engineering surveys for design & permitting of a 145 acre-feet impoundment and supply ditch.  Control survey & construction staking.
ANB Bank, Worland, Wyoming.  Construction layout and quality control prior to and during construction.  As-built survey and Plan preparation upon completion of construction.
Irrigation Systems Due Diligence Inventory & Assessment, Daniel, Wyoming.  Locate & inventory all water infrastructure on a combination working / trout fishing ranch, including all areas of use and areas of potential use for the existing water rights of record. Facilities condition assessment surveys. Cadastral surveying for permit compliance.
TR Valley Ranch Subdivision, Ranchester, Wyoming.  Cadastral and topographic survey for subdivision design. Subdivision layout and Preliminary and Final Plats for project. Monumentation of approved Subdivision and Lots.
Irrigation Pivots Water Rights Re-description, Alcova, Wyoming.  Locate and map over 1000 irrigated acres involving 16 center pivots and some flood irrigation systems.  Prepare water rights petition maps to perfect the water rights of record through the State Board of Control petition process.
Stock Water Pipelines and Reservoirs Permitting, Big Horn Mountains, Wyoming.  Survey As-built locations of over 25 miles of stock water pipelines, source springs and wells, stock tanks and 32 reservoirs.  Project involved extensive cadastral survey effort.
200-acre Land Development, Kirby, Wyoming.  Cadastral survey, Layout and monumentation of parcels. Record of Survey for project.
Sunlight Ranch Reservoirs, Dayton, Wyoming.  As-built surveys, condition assessment and mapping of 18 reservoirs.
Water Rights Correction, Lonetree, Wyoming.  Survey extensive flood irrigation systems to correct territorial water right records to reflect actual conditions on the ground. Prepare Composite Maps for asset management by the Ranch. Prepare petition maps to perfect and protect the water rights asset and existing irrigation.
On-site Water Rights Assessment, Jackson, Wyoming.  Locate and report existing water systems, conditions and water use for Buyer's due diligence effort.
Power Line Utility Easement, Worland, Wyoming.  Cadastral survey, preparation of legal descriptions and Record of Survey, and field staking of Right-of-Way for construction of approximately 3 miles of overhead power line.
Land Surveying Services
Boundary Surveys
Water Rights Surveys
ALTA/ACSM Land Title Surveys
Topographic Surveys
Property Divisions
FEMA Elevation Certificates
Basic Project Control, Horizontal and Vertical
Oil and Gas Well Locations
Mortgage Surveys
Construction Surveys and Layout
Subdivision Layout and Platting
Route Surveys
Rights of Way and Easements
Legal Descriptions
As-Built Surveys
Expert Witness and Testimony
Control Surveys and Networks
Accident Scene Surveys

Each prospective land survey project is handled on a case-by-case basis and cost estimates are provided, when practical. Federal, State, County and local laws and regulations are strictly followed. Confidentiality is a must. No aspect of any project is shared with third parties unless authorized by the client or where governed by applicable statutes.
Give Fritz or Todd a call at (307) 347-8329 or through our Contact Us page to discuss your needs. We recognize the importance of providing quality service in a timely manner. Fritz will be on site when you need him.
A brief history of the Public Land Survey System can be found here and is recommended reading for anyone interested in land surveying.
Mapping and CAD Services
Drafting and GIS services
Reproduction and Plotting oversized sheets
Cartographic mapping
Topographic mapping
Seamless Topographic Quad Maps
Aerial Photographic Maps